Intro to Restorative Design + CHALLENGE #1
What is Restorative Design?
Here's one attempt at defining 'Restorative Design': A model of creation that intends to provide a benefit to the user and larger environment. The design framework takes into consideration the social, economic, and environmental impacts, and aims to address inequalities inherent in the present anthropogenic landscape through improvement, constant feedback, and commitment to environmental design principles.
See also: restorative environmental design, cradle to cradle protocol, living building challenge

Restorative Design is the foundation of everything we are at Nyoka (nai - oh - kah). This can take on as many forms as there are non-restorative designs in our modern world. Look around you. Where did everything come from? How was it made? Who made it? Where will it go when you're done with it? Where will it end up eventually? What does it say about our society?
What inspired this challenge?
Right now I'm sitting in my room, looking at all of the very normal things I own (a shelf, a desk light, clothing, tapestry, little trinkets, my favourite dried mushroom brain), and know that most of these items were not designed to be restorative to the planet. They serve a purpose, they help me function, and it would be hard to stay organized and maintain my workflow if I didn't have them. But I know when they break, or I move, they will change hands, and eventually end up in the dump, where every plastic, chemical, and non-natural origin bit will eventually leach into the environment, float around the ocean, and remain as an environmental poison. NOT OK!
What if all of that can change? What if the materials we use to shape our lives were designed with the complete life-cycle designed from origin to return, using restorative principles? That is what we started here with the Light Wand. We took a common, high-use, and toxic item (the glowstick) and turned it into a beacon of possibility. The light-source itself is compostable, the casing is edible, and we went one step further to make the entire Wand a vector for a curated blend of mushroom species (currently designed for use in the Pacific Northwest). When thousands of people use the Light Wand, not only will they be using a biodegradable light source, but also helping spread a wave of restorative benefit to the soils and spreading the idea of actionable + effective restorative design. Why the soils desperately need our help (and why starting ecosystem restoration with soil remediation is incredibly important) will be a whoooole different blog post.
RESTORATIVE DESIGN CHALLENGE:
Deep Focus
Challenge #1: Deep Focus on Everyday Things
(Time Limit: none)

1. Pick an item that you use daily to focus on.
2. Write down a list of every component used to create it, from resource extraction to production to shipping.
3. Look up where it was produced, and where the resources were taken from.
4. Write down the different materials and technologies that exist (or need to be invented) that could transform this item into a truly restorative piece.
5. Now think about the human element; who produced the resources, who owns the technology, and who benefits from its sale?
6. Reflect on your ability to choose this product - was it easily available, expensive or inexpensive, necessary or luxurious, does it say something about your identity?
8. Look up the company who made your chosen item, and see if their website mentions their green or social initiatives. Use your judgement to discern whether their efforts are effective, and think about what could be done better.
7. (CHALLENGE ROUND) DO SOMETHING ABOUT THIS!
Ding Ding Ding! Send your list and reflections to the company who created the item you chose to focus on. Let them know your thoughts and ask if they are open to feedback. Hopefully, you will be able to engage in some interesting conversations... and at the very worst you may just be ignored. Keep trying!
Bonus points: there are many ways we can work with our economic systems that go beyond environmental responsibility. Think about how you would like a brand to engage with intersectional inequality issues such as women's rights, racial discrimination, visible and invisible disabilities, mental health, and more. Let us know your thoughts by getting in touch.

Include us in these conversations by ccing paige@lightbynyoka.com - I'll get back to you personally plus you'll receive a special bonus for your efforts :)
Don't forget to post photos of your Deep Focus items on Instagram and tag us @lightbynyoka and with the hashtag #restorativedesignchallenge and #deepfocus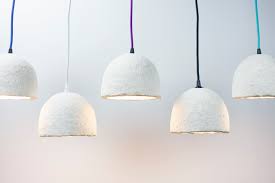 Ecovative uses mycelium to grow beautiful, compostable, sustainable household and packaging materials.
Great news: there are many innovative companies working to create easily accessible choices that will soon be the norm (fingers crossed). For a dose of inspiration check out ecovativedesign.com, they grow packaging materials (and more) from compostable and renewable mushroom mycelium (heck yes!)
Every week we will post an innovation spotlight - if you know of a company that is doing amazing things let us know :)
- A r t S p o t l i g h t -
 
Thanks for stopping by!

In our blog we will be posting updates from everyone on our team, and are incredibly excited to share with you the whys and hows of our creation and growth alongside some education on everything from permaculture to 3D printing, nature-dyeing to design in virtual reality. We are using all the tools available to us to figure out how to grow into a better future. Also, make sure to keep your eyes peeled for more challenges, we're excited to see what you've got! This is important - business controls the majority of waste streams worldwide. We can do better.
 

In peace and rage,
Paige
Somethings brewing: new blog posts weekly!
Next WEek:
Microbiome + Soil = : )
Healthy soil is a relationship between the biological, chemical, and physical elements.
Blog post coming next week, stay tuned.
Thank you for your support!
- Nyoka